Matthew one lays out the family tree of the Messiah. In the litany of names we see the powerful and gracious work of our God. For generations, He faithfully pointed His people towards the coming of His Son, Jesus. As we prepare to celebrate the birth of Christ this Advent season, join us in exploring the members of Christ's family tree. There will familiar characters and names we have never heard, and each one will poignantly remind us of this truth: through Jesus Christ, we have been grafted in to the family of God.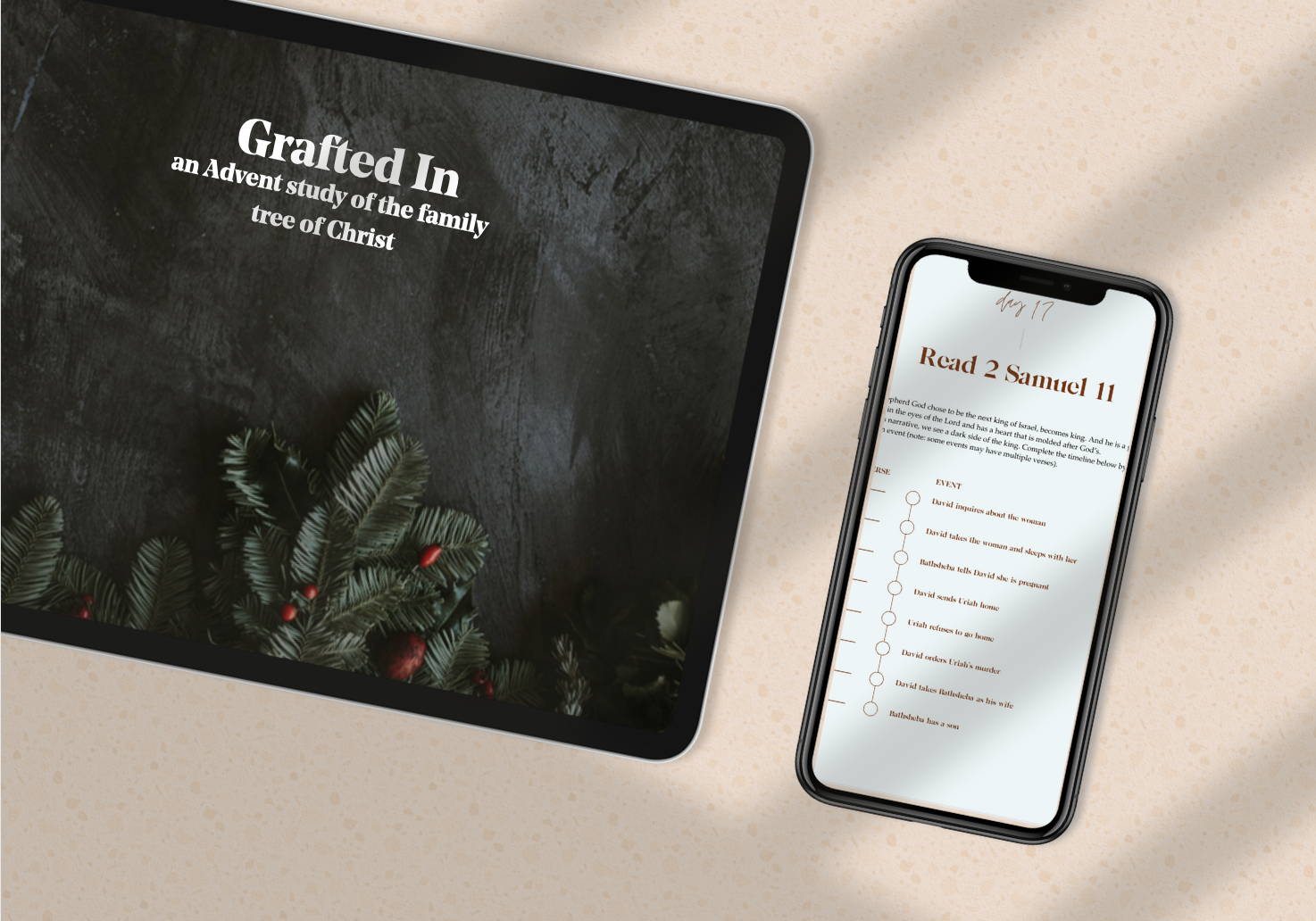 "I've done this study three years in a row and loved it every single time.
Jess R.
2 APR 2017, 12:21
"This study has been such a blessing to prepare my heart for this advent season! I have been doing it with friends and we have loved growing closer to the Lord and each other through it!"
Sydney S.
15 SEP 2017, 14:42
"This study is GORGEOUS, and I love that it goes deep without taking hours of study every day. This is my second time purchasing Grafted In, and I can't wait to spend my Advent learning about the family of Jesus.
Tristany
15 SEP 2017, 14:42
---
Five days per week of Scripture-based Bible study

Readings assignments that put the Text at the forefront of your study

Theological commentary that invites you to interact with the passage

Study tips that encourage you to do the hard work of study, and guides you into a deeper, more robust understanding of the Word

Daily questions for reflection to encourage you to think deeply about the Word and integrate the truth of God's Word into your daily life

Daily prayer points to guide your prayerful response to the Text

Personal login account that tracks your progress so that you never loose your spot

Access for a year so that you're not pressured or rushed and can go at your own pace
Here's what you have to look forward to in Grafted In
---
You'll learn key cultural background information for helping your read your Old Testament. In particular, you'll see just why Matthew's genealogy would have sounded so outlandish to it's original audience!
---
In the first week of this study we will look at a unique greek phrase in Matthew's introduction. It's approachable and accessible - anyone can do it. But it makes our study so much richer when we consider the original languages used to pen these Scriptures!
---
This study includes a beautiful family tree graphic that will help you trace when you're learning and see God's grace on display in every generation from Abraham to Jesus.
"My favorite thing about studying one verse at a time is that I know I'm not missing anything important. I used to only do devotional books, but since doing these studies I'm actually learning to study my Bible on my own, too"
Tori T.
12 MAR 2020, 12:21
"I'm a mom with three under four, which means my study time each day is limited. Amy's studies go deep and only take about 20 minutes. I realized I was really craving that kind of in-depth study. I just didn't think it was possible with my schedule."
Elias J.
21 OCT 2019, 14:42
"I've done every single one of Amy's studies, and I can't recommend them enough! There's honestly not much else out there that helps you learn to study the Bible while studying a specific book of the Bible. It's worth every penny."
Jessica H.
20 SEP 2020, 14:42